Secretary of Defense Robert Gates recently announced plans to trim $78 billion from the Pentagon budget. Meanwhile, the House of Representatives
increased
the Pentagon's budget to a whopping $725 Billion for 2011! What gives?!?
Here's the scoop: US military spending has surged every year since 2001, including a 65% growth to the Pentagon base budget and more than $1 trillion in additional funds for the wars in Iraq and Afghanistan.


The "cuts" we're hearing about represent a modest slow-down to this trend over a 5-year period. Instead of enjoying a 10% increase to its budget next year, the Pentagon will have to make do with a 3% pay raise. But make no mistake: military spending is going up, not down -- even as spending on roads, schools and other programs that benefit our communities is frozen or slashed.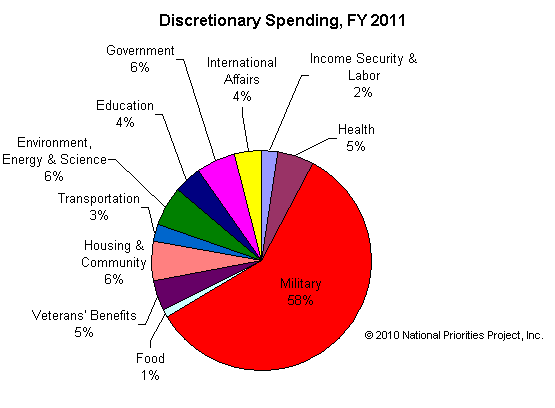 Take action:
Newly-elected Congressmen Sean Duffy (WI-7) and Chip Cravaack (MN-8) gave a joint press conference in Duluth on November 30th, during which they repeatedly called for cuts to "non-defense" discretionary spending. In other words, they want to balance the war budget on our backs.
Call or write your Congressman today. Tell him to balance the budget by cutting war.

If you live in NE Minnesota, contact:
Congressman Chip Cravaack
6448 Main Street, Suite 6
North Branch, MN 55056
888-563-7390

If you live in NW Wisconsin, contact:
Congressman Sean Duffy
208 Grand Ave
Wausau, WI 54403
715-842-5606